PRIVATE EVENTS
Zouk Las Vegas spans over 100,000 square feet and offers a variety of experiences including a world class street food hall, vibe dining restaurant, social gaming bar, karaoke lounge, boutique nightclub, and a luxury bohemian dayclub. All our spaces were designed with versatility in mind. Any and every dedicated area can be configured and tailored to your specific needs, from intimate outdoor breakouts to large-scale gatherings.
ZOUK NIGHTCLUB
Zouk Nightclub is a new innovative space, pushing the boundaries of dance music and is poised to become the most technologically advanced nightclub in Las Vegas. Partygoers can journey through multiple experiences with Capital Bar and Empire, which will be able to operate as an addition to the main club or separate venues on specific nights or upon request
---
VENUE SPECS
Square Footage
26,060 SQ FT
Capacity
2,160
Features
Stage – 7'3" x 32'2"
3 Full Bars
30 LED Ceiling Pods
Proscenium Screen 31' x 30'
The Mothership
LED Arches
STATE OF THE ART PRODUCTION
The Mothership
The Mothership features a complete lighting system offering dynamic solutions, both automated and static. The Mothership can also traverse across the club and tilt up-to 40 degrees using a fully integrated automation control system.
Ceiling Panels
Zouk's 16 center ceiling pods have 4 axis of motion with a tilt angle of up to 30 degrees. The pods descend to a trim height of 18' from the floor at a maximum speed of 1.7 ft/sec.
Proscenium
An amazing floor to ceiling LED wall serves as the backdrop of the DJ booth.
Audio
Zouk features a state of the art sound system developed in partnership with industry leader L'Acoustic capable of facilitating any experience from intimate corporate settings to high energy, world class nightclub experiences.
Lighting
The club houses over 250 intelligent moving head lighting fixtures, as well as many other conventional fixtures.
Video
Zouk's main room features screens spanning over a 4K space with the ability to play fully customizable pixel by pixel content. Additionally the entrance and Capital Bar areas have screens spanning an 8K space allowing the ability to create an immersive branding experience with high resolution activation.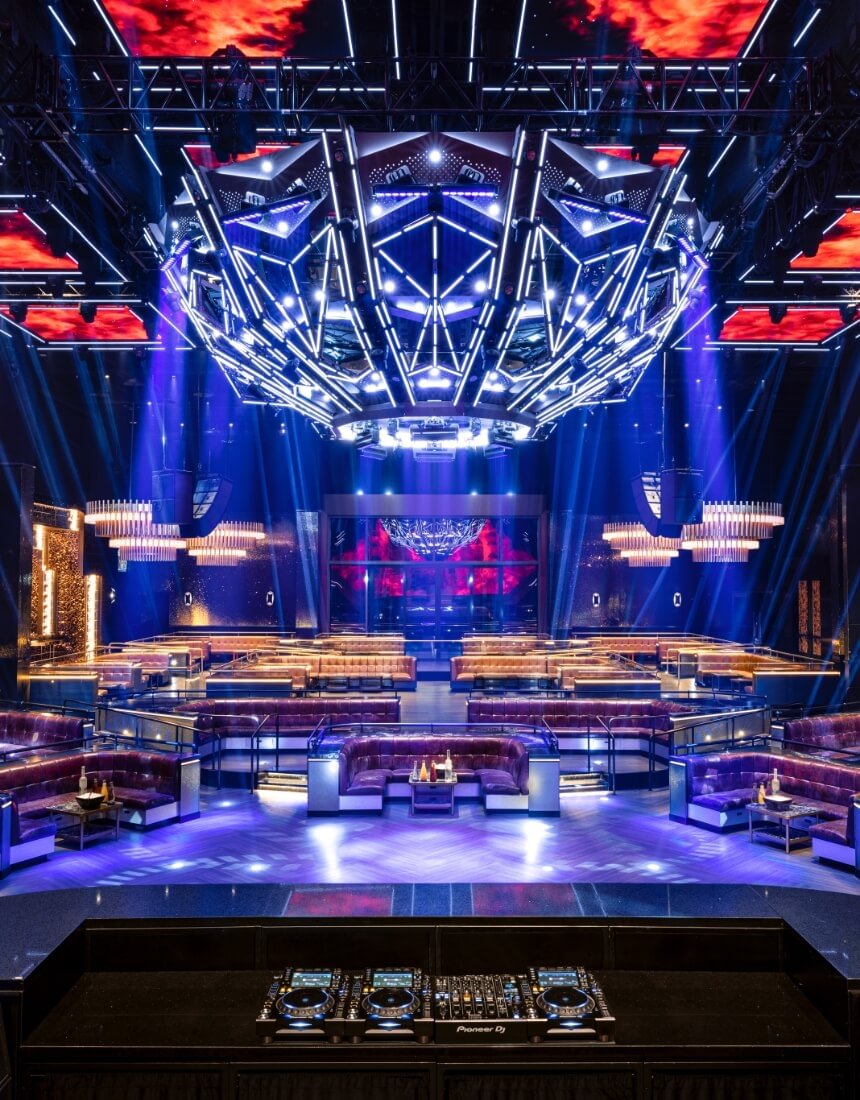 EMPIRE
The Empire room has an optional wall to separate from the Main club space creating a more intimate event space. The space features beautiful chandeliers. its own customizable LED ceiling panels and a luxury copper themed bar.
Square Footage
1,985 SQ FT
Capacity
493
FLOOR PLAN